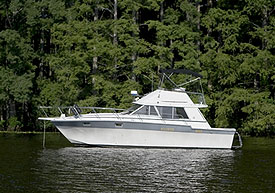 Your boat means fun and freedom for you and your family. But it's also a commitment of time and money. You deserve the best protection for your on-the-water investment. That protection should come from DeMattos Insurance Agency.
Dependable coverage gives you added peace of mind when the unexpected happens. You can be protected against direct accidental losses to your boat, trailer, attached equipment, fishing equipment and portable accessories.
We can offer competitive pricing, especially for outboards under 18 feet and total repair/replacement coverage for boats up to five years old. Money saving policies can be written with homeowners, auto or package policies
Fill out the form below, and we'd be happy to give you a quote on your Boat Insurance. Or give us a call at 798-0057.